Growing a National Membership Organization
Background
A national organization for medical professionals contacted Frederick Mountain Group in the summer of 2019.
At the time, they were unhappy with their current consultant. They wanted to re-establish the organization's prominence after years of neglect. They had declining membership, an outdated website, and their non-profit status had lapsed.
Our work was to triage the multiple issues affecting the organization and start producing results immediately. This organization does not have staff and the board of directors is responsible for the day-to-day operations.
We began our marketing work January 1, 2020. Within 3 months, the world went dark to try to slow the spread of COVID-19.
Despite the global shock and many of the medical professionals in the organization becoming front-line responders to the COVID-19 pandemic, the organization grew.
It had a 20% increase in memberships, 2 new sponsors, and a 13% increase in monthly revenue.
What We Did
Customized 360 Degree Marketing Package:

Website Redesign

Membership Management Software Integration

2-3 blog articles per month

Organic social media calendar creation as & daily engagement on social media accounts

Email Marketing

Webinar Re-Design and Management

Google Ads-creation and management

Facebook Business Manager ad creation, audience targeting, adjustment, & monitoring

Monthly reporting to client
Challenges
At all times we strive to be honest and realistic with our clients about our successes and our ability to grow organizations.
We were concerned that without staff and a very small budget, the organization would not see results. Through the onboarding process, we agreed to work on a base fee with a performance bonus.
In exchange, the organization agreed to hire an administrative assistant to help us process and manage memberships, donations, and sponsors.
We got to work quickly to handle their website redesign, membership software integration, and help with regaining nonprofit status.
The organization needed to reconnect with members and channel partners after years of "brand and messaging" neglect. They had declining membership, an outdated website, and their non-profit status had lapsed.
​This organization does not have staff. The board of directors is responsible for the day-to-day operations.
The engagement process occurred over 5 months. The issues with the organization's tax status needed to be corrected as soon as possible. FMG is not a certified accounting organization, however, we are fortunate to have a network of specialists available to work with our clients. We connected the organization with an accounting firm to help the organization understand why its non-profit status had lapsed and what was needed to bring the organization current.
​Once the organization's tax-exempt status had been re-established, we worked with the board to identify their goals over the next 6- to 12- months.
​Website
​Our first task was to clean up and modernize the organization's website. We needed to better integrate their donor and membership database, WildApricot, with a contemporary website that would be inviting. Because cost was a major issue, we built the new website on Wix. We were able to complete this process within 30 days so that we could begin our 360- Degree marketing program to drive potential members, donors, and sponsors to a professional website.​
A Pandemic Emerges
At the same time, COVID-19 was becoming more and more of a threat globally. The organization had decided to partner with other professional services groups rather than host their own conference. We worked closely with conference organizers, providing assets and collateral to announce our client's participation. We also began running paid ads on Google Ads and Facebook Business Manager.
By ​March 1, 2020, major conferences like South by Southwest, the American Academy of Dermatology, and several others were considering canceling due to the rising threat of COVID-19.
Additionally, medical professionals in the northeast were reporting a rising number of critically ill patients overwhelming their hospitals.
​We convened with the board and decided our original goals and the plan to reach those goals were not possible. We shifted our work to support the organization's medical professional members who were now on the frontlines of the worst pandemic in nearly a century.
Navigating COVID-19
Like many, we were shocked and wanted to help front-line medical professionals any way we could. As a national organization, our client was in a unique position to provide a way for medical professionals to connect safely with each other around the U.S.
By June 2020, FMG decided the best way to connect and support the client's members, many who were in ICUs in the northeast, was to start hosting webinars. During these webinars, members could connect with each other in a way they had not been able to for months.
​In parts of the Southwest and Southeast, members talked about layoffs and delayed careers as elective procedures were halted to save resources like personal protection equipment for ICUs and overwhelmed hospital systems.
​These webinars became a space for connection, mourning, and solutions.
By the fall of 2020, as the second surge of COVID-19 hit, FMG realized we needed to permanently shift our focus to distance engagement. There would be no medical professional conference in 2022. This was "the new normal".
When the one-year contract ended on December 31, 2020, most of the board was working with COVID-19 patients, and a majority of the members were grappling with the highest infection and mortality rates. We continued our work and support without a contract.
It would be March 2021 before things settled down enough to connect with the board and determine how we should move forward. When the FMG team sat down to look at the end-of-year statistics, they were shocked- in a good way.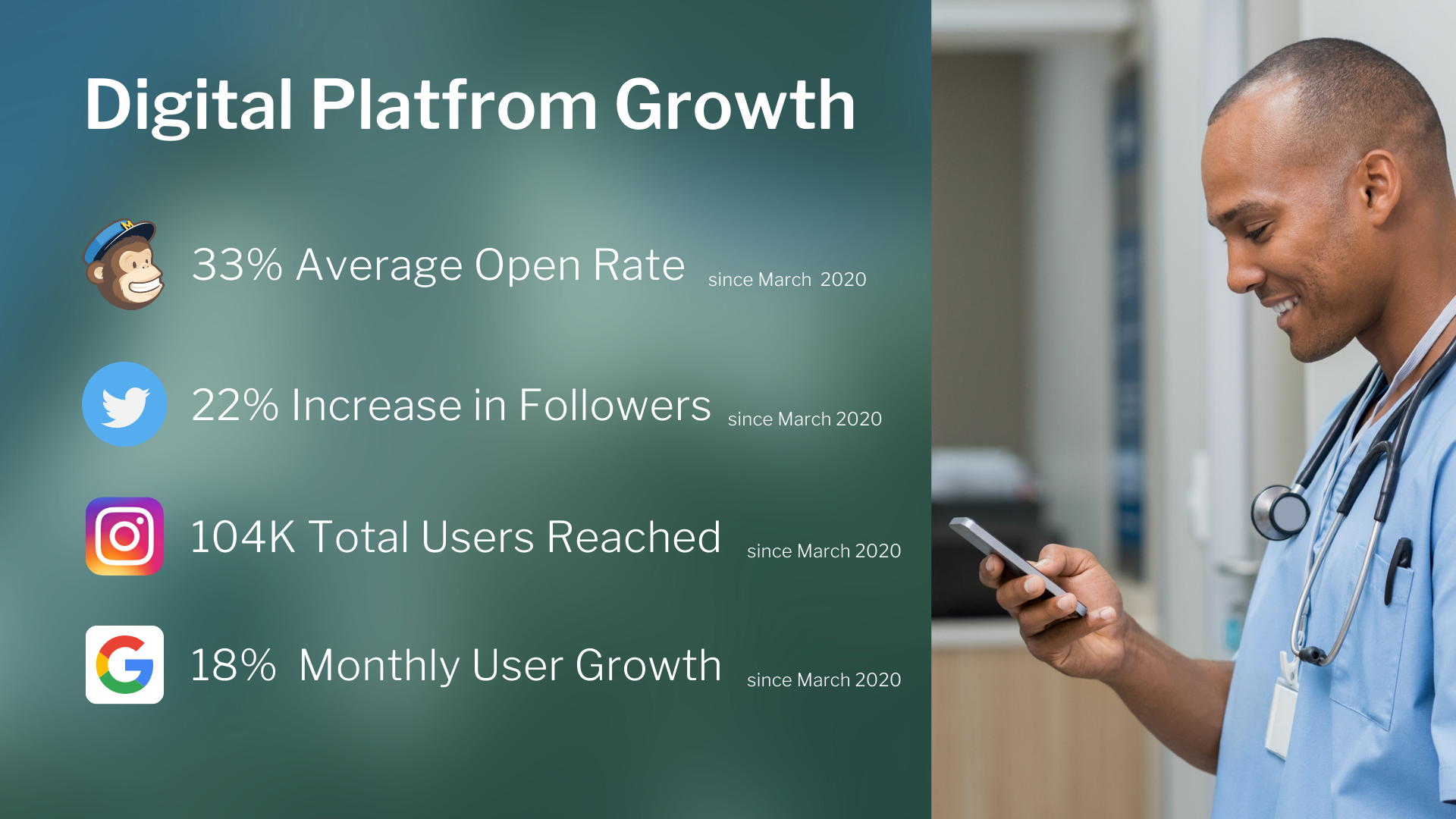 Results
20% Increase in Membership

2 New Sponsors

13% Increase in Monthly Revenue