Frederick Mountain Group likes to get things done. We often joke with clients that we are the difference between a good idea and a great result. To help you get great results, we want to know what success looks like for your organization, how you are going to measure that success, and your timeline for achieving success.
Most consulting firms say the same thing: We are successful and different because we stand with you to implement the strategy, and monitor and adjust until we have the right tools in place.
Getting the strategy on paper is the easy part – getting the strategy implemented is the magic. We developed the Go-Start! process back in 2013, and have been using it with clients and teaching it in seminars and workshops with business owners around the country ever since. You can learn more about the process here, or you can take the self-paced course we developed in 2018, but here is a short explainer.
Why does your organization/business exist?
What does it do that makes it better than any others in the field?
What does success look like for your organization/business?
How will you know you are successful?
What will you use to measure and identify that success?
Where are you today, relative to your definition of success and the metrics you selected?
What tools, people, resources, and finances do you have on hand today to get where you want to go?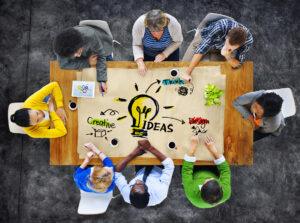 FMG takes your definition of success and your currently available tools/resources/people/finances and designs a path from where you are to where you want to be. We offer three service sections: marketing/communications, sales/fundraising system development, and people management. We partner with a number of specialists for services and skills outside our field of expertise.
Then we get to work. We start doing the activities you need to move forward, or we work with your team to develop the capacity and skills to move the organization forward. While change takes time, we are constantly scanning the key performance indicators to see if things are moving in the right direction. We want to see measured improvement in the interim.
We work with organizations and businesses that want results, not reports. If this sounds like something you are interested in, give us a call! The first consultation is always free, and you always get a detailed client guide to help understand how FMG could support your growth goals.
If you need more specifics, you can check out our case studies to see how we make change happen.